SignCraft Solutions is a full service sign manufacturing, installing, and "anything a customer needs, we'll do," company. Owner and founder Bob McEwen started SignCraft Solutions in Wake Forest, North Carolina and has continued on for 10 years.
During the great recession in 2009 and having been laid off, Bob was looking for something to do. Through contacts and several interactions with the Sign industry, Bob decided to start his own company.
In 2009, he started with just himself and Matt Key. Over the 10 years, SignCraft Solutions has grown into a 6,700 sq.ft. facility and 11 employees.
Their production was limited to what they could produce by hand. Making the same straight and curved lines by hand was tedious and difficult to maintain consistency.
Growing A Business
One of the most important upgrades to their production line was a SmartShop MT. SignCraft Solutions selected the MT because of its versatility and budget-friendly price point.
Because their work is so varied, they needed a machine that had routing as well as knife cutting capabilities. Through this SmartShop MT, they've found that it's like having another good employee,
"As we have good equipment, it's like having another good employee. We can increase our speed of what we're doing, our efficiency, and the equipment holds up well continues to work well." – Bob McEwan
Learning the Machine
When the machine arrived on a flatbed truck, they were able to easily remove it and put it in to place. But since SignCraft Solutions was brand new to CNC, they selected to have a two day in-person training session.
The LAGUNA tech arrived, and within two days they were ready to cut whatever they wanted. And in the few months they've had it, they're already cutting signs out of aluminum, acrylic, plastic, drag knife for foam core, core plast. The mister option for the router bit allowed SignCraft to cut the aluminum.
About the SmartShop MT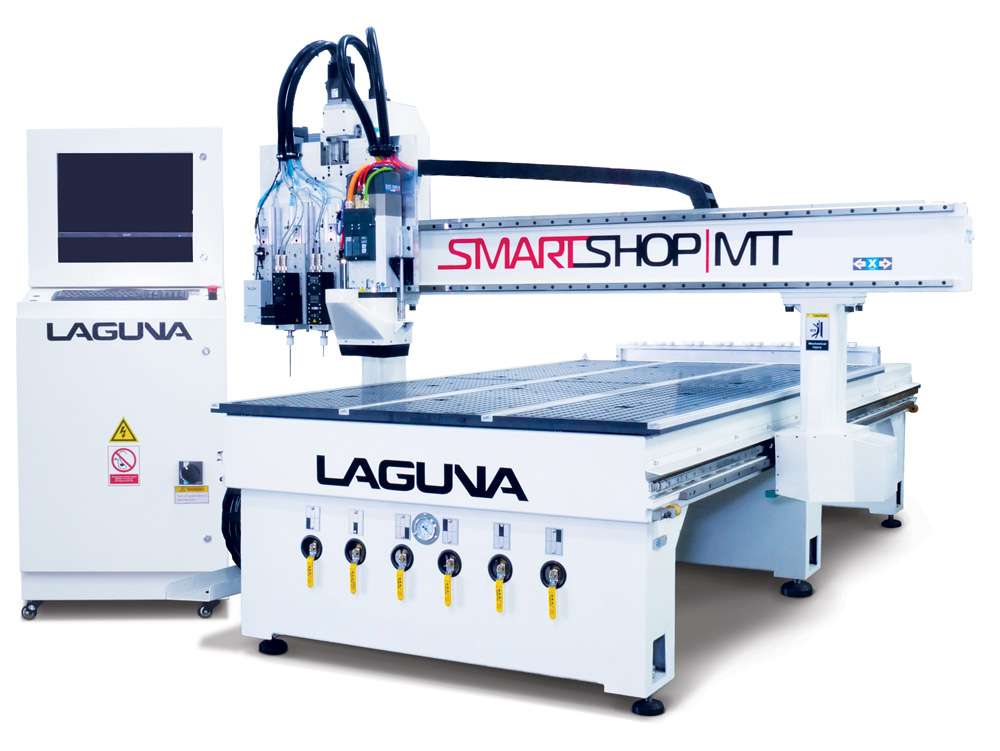 The SmartShop MT is the most versatile machine we've created. Featuring an extended gantry, extra-large tool plate to add three additional tool devices, repeatability of up to +/- 0.001, an all-steel one-piece frame, and a 6-zone phenolic vacuum table.
Chosen by sign businesses across the country, the MT truly offers the one-stop machine for almost every production need.
Learn more about the SmartShop MT >
In Summary
Because SignCraft Solutions made the jump into CNC, they've been able to grow faster than they could have working by hand. And we've seen this same result with hundreds of other businesses. Need a bump in production capabilities?
Maybe it's time to talk with us. Comment below what you took away from this and any questions you may have.